IMPORTANT UPDATE
 In an effort to practice social distancing recommendations, the Eleanor Roosevelt College Staff will be working remotely until further notice. You can reach us during our regular business hours through the following methods:
Monday - Friday
8:00 am - 12:00 pm and 1:00 pm - 4:30 pm
Academic Advising
Zoom Walk-Ins:

 

We will be offering our regularly scheduled walk-ins via Zoom. To participate, return to the Virtual Advising Center (VAC)

 

during walk-in hours for a link to access the virtual waiting room.
Zoom Appointments:

 

If you would like to schedule a Zoom appointment, please send in a VAC message for further instructions or call our temporary phone number. If you are unable to reach us, you may leave a voicemail with your name, PID, a call back number, and a brief description of your situation and we will return your call.
Temporary Phone Number:

 

To set up an appointment or for brief inquiries, please call

 

858-224-2173 during our business hours. 
Student Affairs
 Making of the Modern World
MMW classes are taught remotely and asynchronously through summer 2020. MMW13 and MMW15 in Spring 2020; MMW14, 15, 121, 122 in Summer 2020. 
Email ercmmw@ucsd.edu with MMW program-related questions.
Zoom: Check your course Canvas site for zoom contact information for your professor or TA.
Counseling and Psychological Services
(858) 534-3755. Press 2 for Urgent needs after hours. Counseling will be available 24/7.
A MESSAGE FROM PROVOST IVAN EVANS
Welcome to a unique Spring quarter! This is a challenging time indeed. Throughout it, you may rest assured that UC San Diego and ERC will continue to support and serve students.
The University and the ERC staff and faculty have worked hard to adjust to the unprecedented situation in higher education and across the nation. Many adaptations were developed over the past few weeks to preserve UC San Diego's high academic standards while ensuring the health and safety of the entire campus community. I truly hope that you will successfully adapt to the Remote Learning experience. I urge you to rely on the modified support services for students, stay focused on your goals, and always be mindful of your well-being.
ERC's familiar support services are here for you. Academic Advising is ready to do business via the VAC, telephone, and Zoom. CAPS is there for you as well—just call and arrange a Zoom conference. Similarly, the Case Manager and Senior Success Coach will help students navigate the student experience and build on their strengths. Res Life staff and RAs will support ALL students, whether they chose to move back home or remain in the residences, asking only that interaction in the residential areas should be as virtual as possible and always mindful of social distancing. MMW has carefully developed online courses and paved the way for a smooth transition to the digital environment. For your MMW courses, as well as in your other remote courses, please be aware of the resources that the university has made available. These will be noted on course syllabi, Canvas and TritonEd and will also be advertised in emails throughout the quarter.
Because communication and learning will be virtual this quarter, it is important to remember that we remain, members of a real community, one that is defined by more than mere physical proximity on a bustling campus. We take pride in achievement, mutual support and a common commitment to ethical values. Keep in touch with one another. Practice academic integrity at home, set high standards for yourself and uphold the university's Principles of Community wherever you may be. Together we will learn how to re-create community in the unexpected context of a virtual quarter.
This, too, shall pass. Better days lie ahead!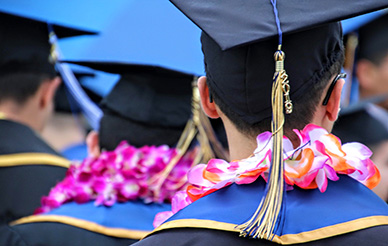 UC San Diego's Virtual Commencement 2020, will take place on Saturday, June 13, 2020, at 9:00 a.m.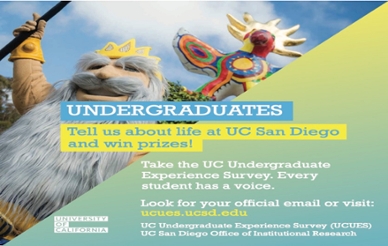 UC Undergraduate Experience Survey: Your Voice is Important!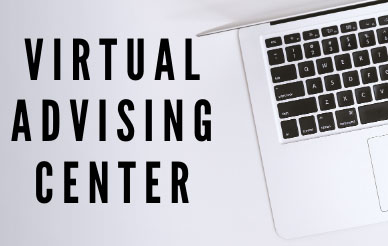 Virtual Advising Center (VAC)
Show us your #TritonPride
Even when we can't be together on campus, we are connected by #TritonPride. Here's how our community is showing off their Triton spirit from home.
ECHO: Ellie's Community Hub Online
Greetings ERC Students, most of you are unexpectedly settling into a new home base, either at home or in the residence halls. For all students, virtual interactions will replace face-to-face interactions. No matter how you look at it, this is an extraordinary social experiment and ECHO can help to provide you with resources.
FEATURED PROGRAMS
PARENT & FAMILY PROGRAMS
Whether you are a parent or family member of a student in their first or last quarter at UC San Diego, our Parent & Family Programs can help you navigate campus resources and connect you as a member of the Triton family.
CAPS and Wellness Programs
Skill-building online workshops to learn new coping strategies. Learning these skills helps students to improve stress management and emotional regulation, build tools for resilience, and learn strategies for well-being. Some of our workshops this quarter will focus specifically on reducing loneliness.
International House
I-House is a hub for global engagement, global awareness, and global community. Dedicated to promoting international awareness and intercultural understanding on campus, we organize an array of programs for everyone on campus, house scholars and students from over 30 countries,
Where in the World is ERC?
Find out where ERC Global Scholars have travelled around the world.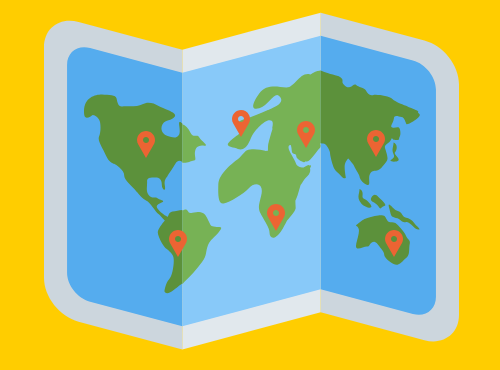 ERC Calendar
Eleanor Roosevelt College offers a variety of events throughout the year. Check our calendar to stay updated on our upcoming events.
Minors Hosted by ERC
Human Rights
Students will engage openly with the history and the implementation of human rights, explore its origins and trajectory, the passions it arouses, and the range of its influences and effects
International Migration Studies
This minor will give students an in-depth understanding of the causes, politics, and social consequences of international migration from a broad comparative perspective.