Overview of ERC Living Areas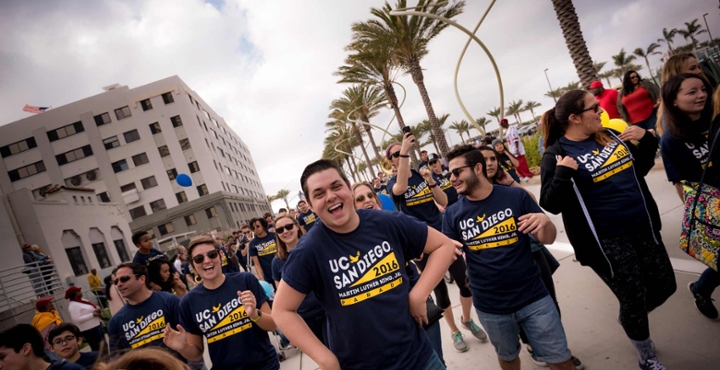 On-campus living offers programs and unique opportunities to expand and enhance educational experiences, and provide exposure to the ideas and points of view of diverse populations of fellow students. Most freshmen begin their stay at UC San Diego in on-campus housing where they have access to resources designed to assist in the transition from home to college and to support individual growth and development. Second years and above have the opportunity to continue living in ERC in the apartments. ERC has the privilege of hosting International House and several Living Learning Communities which add so much to the ERC community and provide once-in-a-lifetime opportunities to their residents.
ERC first year students live in the ERC Residence Halls. Each suite has a common area lounge, community bathroom and 6-7 rooms.
ERC continuing students live in the ERC Apartments. Each apartment is fully furnished and has a kitchen, bathroom, living room, and 2-4 bedrooms.
The ERC area also offers a Student Activity Center, meeting rooms and laundry facilties. The Great Hall and Middle Earth Lounge are nearby, where many social, cultural and educational programs are offered. Check out our dining facility, Cafe Ventanas!
Affiliated with ERC, International House (fondly known as I-House) is a campus-wide living learning program, open to all residents of sophomore standing and above. Each apartment is a mix of International and American students who are not only willing to share their cultures and engage in intercultural exchange, but are also willing to support I-House programs through language tables, cultural nights, intramural sports, seminars and socials. Admission is by application and, dependent upon space, is conducted at the end of fall and winter quarter as well as for the academic year as a whole.
For full admission details and learn more visit the I-House website.
ERC is proud to host three living learning communities: Raza, Gender Inclusive, and OASIS. Each of these communities offer different opportunities to their residents and allows a residents to live with those that share a common interest. To learn more about ERC's LLC, please visit our LLC page.