Overview of ERC Living Areas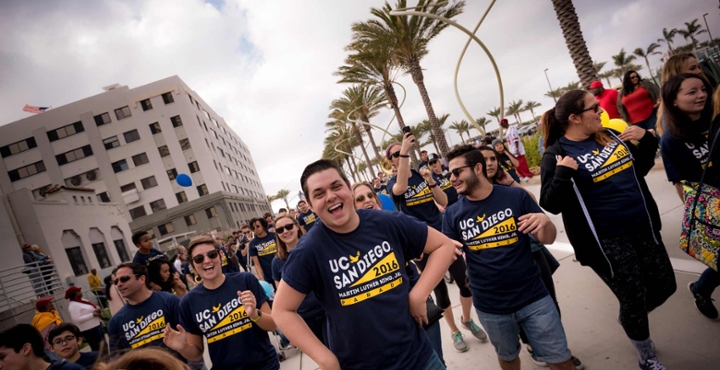 On-campus living offers programs and unique opportunities to expand and enhance educational experiences, and provide exposure to the ideas and points of view of diverse populations of fellow students. Most ERC students begin their stay at UC San Diego in on-campus housing where they have access to resources designed to assist in the transition from home to college and to support individual growth and development. First-year freshmen students and new transfer students who meet housing contract requirements are guaranteed two years of on-campus housing. ERC has the privilege of hosting International House and the Raza Living Learning Communities which add so much to the ERC neighborhood and provide once-in-a-lifetime opportunities to their residents.
About half of ERC first year students live in the ERC Residence Halls. Each suite has a common area lounge, community bathroom and houses 15-16 persons in triple, double, and single fully-furnished bedrooms.
An additional community of first-year students and most ERC continuing students live in the ERC Apartments. Each apartment is fully furnished and has a kitchen, bathroom, living room, housing 2 – 6 persons in single and double bedrooms.
The ERC area also offers a Student Activity Center, meeting rooms and laundry facilities. The Great Hall and Middle Earth Lounge are nearby, where many social, cultural and educational programs are offered. Check out our dining facility, Cafe Ventanas!
Historically, ERC has not been able to house all its students within our college neighborhood.  We have established two distinct ERC communities in The Village, an apartment complex just north of ERC. These communities cluster ERC first-year students and continuing students in two different areas of apartments.  These fully-furnished apartments each have a kitchen, bathroom, living room and each house 6 – 8 persons in single, double, and triple bedrooms.
ERC is proud to host two of our campus-wide Living-Learning Communities (LLCs): International House and the Raza LLC. LLCs are a community of residents who share common objectives and/or interests and who are actively engaged in learning from each other in a common residential setting. These types of living environments on college campuses are associated with higher GPAs, deeper learning, increased retention rates, and increased graduation rates.
ERC also provides two additional housing opportunities – Gender-Inclusive Housing and housing for students who participate in a Summer Success Program.
International House
International House (I-House) is the oldest and largest LLC at UCSD. Created during the founding of ERC in 1988, I-House is a campus-wide living learning program, open to all residents of sophomore standing and above. Each apartment is a mix of International and American students who are not only willing to share their cultures and engage in intercultural exchange, but are also willing to support I-House programs through language tables, cultural nights, intramural sports, seminars and socials. Admission is by separate application and, dependent upon space, is conducted at the end of fall and winter quarter as well as for the academic year as a whole. For full admission details and learn more visit the I-House website.
Raza Living-Learning Community
UC San Diego is committed to creating communities where students can gather, connect and learn from one another through common affinities such as aspects of culture. The Raza LLC program provides a space within the International House  complex and one of the residence halls in Eleanor Roosevelt College for new and continuing UCSD students from all six colleges to live and contribute to a vibrant living-learning community. Residents in this community are committed to developing their understanding of and greater appreciation for the Chicanx and Latinx experience in San Diego and the United States and the histories and culturesof Latin America. The community's programmatic objectives of community building, mentorship, and education will be enhanced by opportunities to partner with International House (I-House), Raza Resource Centro, and the campus student organizations for an exciting calendar of formal and informal collaborations. If you are interested in living in this community, updates and application information will be forwarded by Housing Administrative Services during the housing contract process.
Gender Inclusive Housing Option
The UCSD housing contract allows any student of all gender identities the opportunity to live together in theERC Apartments and International House neighborhoods. If you are interested in this housing option, you may be able to request specific persons with whom you want to live in the coming academic year. Updates and application information will be forwarded by Housing Administrative Services during the housing contract process.
Summer Success Program Housing Option
UCSD's Summer Success Programs are aimed at helping first generation college students from under-served high schools get a head start with their college experience. This housing option allows all program participants to live together in a community built upon the supportive relationships that began during their Summer experience. The first-year transition to college, the importance of diversity and involvement, and an emphasis on learning from each other are all key values of this community. More information will be provided to participants towards the end of their particular summer program.