Meet Our Staff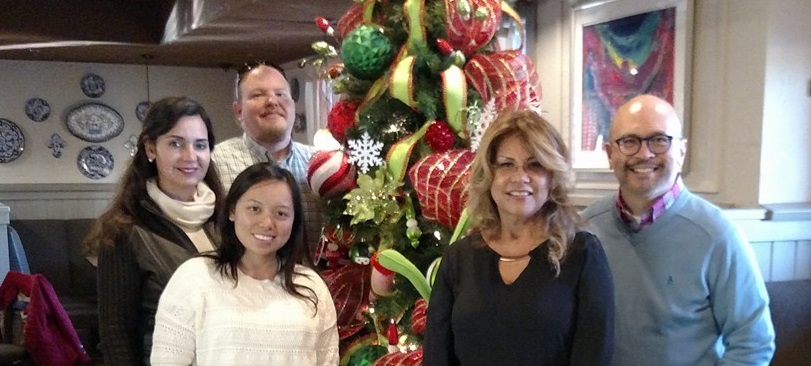 Rey Guerrero - Director of Residence Life & Associate Dean of Student Affairs

Rey Guerrero has been with Eleanor Roosevelt College since 1992, and has been the Director of Residential Life & Associate Dean of Student Affairs since 1997. Originally from the Monterey Peninsula, Rey earned his Associates Degree at Monterey Peninsula College before finishing his BA in Art Studio at UC Santa Barbara. He worked as the Tour Coordinator and Admissions Counselor at UCSB before earning his Master's Degree in College and University Administration from Michigan State University. Prior to coming to UCSD, Rey also worked at Cal Poly San Luis Obispo.





As Director of Residential Life & Associate Dean of Student Affairs for Eleanor Roosevelt College and International House, Rey is responsible for the overall administration of the three "neighborhoods" that make up our college residences, represents residence life at college and university-wide committees, represents the college at community events, and coordinates the management of the neighborhood facilities with the Custodial, Maintenance, Dining and Grounds staffs. When asked what he likes most about his job, Rey replied, "Having the opportunity to create a second home for the students of ERC and International House."

Gregg Stewart - Assistant Director of Residence Life

Gregg Stewart was hired as the Assistant Director of Residential Life in charge of the Residence Halls and the westside apartments in Fall of 2010. Gregg comes to Eleanor Roosevelt College from Oklahoma State University. Stay tuned for more information

Malou Amparo - Assistant Director of Residence Life

Malou is a former I-House Resident Advisor who joined the Eleanor Roosevelt College staff in 2012. Malou has earned degrees from UC San Diego in Chinese Studies and International Studies and is currently pursuing a Masters in International Education at the SIT Graduate Institute. Malou previously worked with the English Program in Korea, International Rescue Committee in San Diego, and International House at UC San Diego. Malou is directly responsible for International House (Asante, Cuzco, Kathmandu, and Geneva), Latin America Hall, and the Raza LLC. She is also the advisor for IHOP (International House of Outreach and Programs).

Sandra Tripp - Residence Life Business Manager

Sandra Tripp has been with ERC since 2001, but had previously already spent 15 years with the university. Sandra is responsible for the fiscal management of the department, and is the main department liaison for purchasing, vendor relations, and the college business office. She is the direct resource for residence life staff and students regarding all financial matters for the office, and trains the student staff in policies and procedures for accessing program funding and reimbursements. Sandra is also responsible for the key management procedures and the coordination of the student workers for the front desk operation and the Student Activities Center.

Nora Herrera - Administrative Assistant – Housing Assignments Specialist

Nora Herrera has been with Eleanor Roosevelt College since 2002. As the Housing Assignments Specialist for the office, Nora is in charge of all room assignments for the three areas of our neighborhood – Residence Halls, Apartments, and International House, and serves as the main liaison with central Housing regarding assignments in these areas. She manages all inquiries by phone, e-mail, or in person from students, families, and staff regarding all aspects of the housing contract as it applies to living at ERC. She also handles roommate requests, room change requests, and contract cancellations.