Eleanor Roosevelt College's CASLS Awards
What are the CASLS?
CASLS are the annual College Awards for Scholarship, Leadership and Service. It is our recognition of ERC students who have achieved outstanding accomplishments during the past academic year. It is our opportunity to recognize, highlight and commend the accomplishments of the graduating class.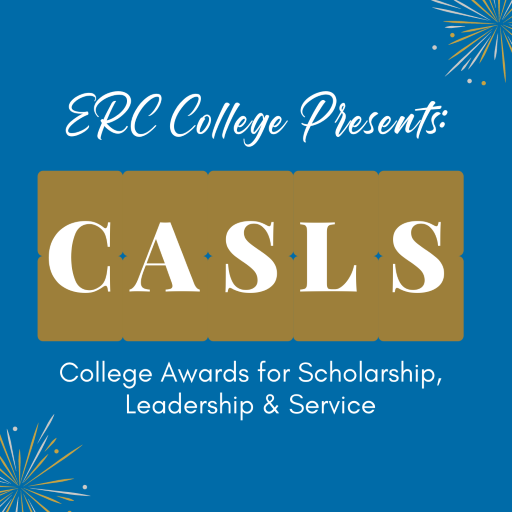 Miss the big event? View the recording of our 2022 CASLS Ceremony below.
Award Descriptions
Below you will find a list of awards and their descriptions. 
Event/Program Awards
Outstanding Cultural Program: This recognizes a program or event put on by ERC students or an ERC Organization that helped promote cultural awareness and understanding. 
Outstanding Service Program: This recognizes a program or event put on by ERC students or an ERC Organization that contributed to serving our mission of service and service learning. 
Outstanding Social Program: This is awarded to a program or event, either on or off campus, put on by ERC students or an ERC Organization with the goal of promoting social interaction across the ERC Community. 
The Outstanding Program of the Year recognizes the best ERC student program/event that was put on throughout that particular academic year. 
Student Organization Awards
Best Effort by a Student Organization: This is awarded to an ERC Organization that continued to persevere through a variety of obstacles either for a particular program/event or throughout the academic year. 
Outstanding Joint Effort by Multiple Student Orgs: This award recognizes an outstanding collaboration between organizations and/or campus partners.
Outstanding Student Organization is awarded to one ERC Organization that has stood out over the course of the academic year in their growth, whether in numbers and/or success of event; consistently proven to represent the ERC mission statement and/or overcame challenges of some kind, etc.
Individual leadership Awards
Outstanding Commuter Student: This is awarded to a student who commutes to campus and has been integrally involved in contributing to the ERC Community in a positive and meaningful way.
Outstanding Transfer Student: This is awarded to an outstanding ERC student leader who transferred to UCSD from another institution. 
Rising Star: This award tradition is given to one new ERC freshman AND one new ERC transfer student who has shown great potential in the first year of being an involved ERC student leader. 
Outstanding Student Leader of the Year: This is awarded to an ERC student who holds a leadership role in some capacity that has gone above and beyond the responsibilities within their position to ensure the success of an event or of an organization they are a part of. 
Res Life Awards
Outstanding I-House Resident: Typically given to a resident of the I-House/Raza neighborhood who has led community events & represented the ERC mission statement through their leadership. 
Outstanding Res Hall Resident is awarded to an ERC student who is currently living in the Res Halls (including overflow housing), who demonstrated their involvement and leadership skills and has contributed to the ERC Community in a positive way.
Outstanding Apartment Resident: This is awarded to an ERC student who is currently living in the ERC Apartments who demonstrated their involvement and leadership skills and has contributed to the ERC Community. 
Miscellaneous Awards
Outstanding student employees in ERC: Student staff members who provided sustained outstanding service in their roles throughout the years they have been employed. Includes Academic Advising Nominations, Orientation Nominations, Residence Life Nominations. 
The OCEANIDS Award is presented annually by one of the oldest service organizations on campus to a representative of each college of junior standing who has consistently contributed to sustained and effective service to campus and community. A recipient is chosen from each of the seven Colleges and receives a monetary award for the 2021-2022 academic year.  
The Trish Scott Innovation Award: Named after our long-time former ERC Dean of Student Affairs, is given to someone who has Initiated a program/event in a new and innovative way which has become a tradition at ERC.
Senior Awards
Alumni Association Outstanding Senior Award recognizes one outstanding student from each college graduating during the 2020-21 academic year (or by the end of summer 2021) with at least a 3.0 cumulative GPA who have demonstrated exceptional academic achievement, outstanding contribution to the campus community through active involvement within the college and the university and demonstrated leadership.
The Provost Scholars are awarded to a graduating senior representing each of the major divisions with the highest academic achievement. While it is always an incredible accomplishment to continue maintaining high academic excellence, the fact that these individuals were able to sustain their efforts throughout the pandemic is incredible. 
The ERC Global Service Award is given to a student who has sustained global community service at home and/or abroad.
Dean of Student Affairs Award of Excellence is given to graduating students from any college who demonstrated sustained and significant contributions to the ERC/I-House and UCSD community. 
ERC Ambassador Award: A long-time ERC tradition selected from nominations by the graduating class to recognize one of their peers.This award is given to a student who exemplifies the highest ideals of ERC through the following: global perspective, strong academic record, involved in/contributes to the development of the College and its community.
Timothy McDaniel Award: Named after beloved Professor of Sociology, Timothy McDaniel. Among his greatest passions was his commitment to educating undergraduates and to encouraging them to travel and study abroad. He played a central role in the establishment of Eleanor Roosevelt College and in defining as its primary goal, the education of students with a global vision. The department has established an award for an outstanding ERC undergraduate, to be given annually. This award is given to a graduating student who embodies undergraduate  excellence with an international focus.
Ann Craig Award for Scholarship, Leadership and Service: Named in honor of our Provost Emeritus, Dr. Ann Craig, this award recognizes excellence in scholarship (over 3.5 GPA) and sustained leadership and service. These graduating seniors represent the very best of our class with their demonstrated high academic achievement, strong commitment to leadership within the college and contributed service to ERC, UC San Diego and the greater community.