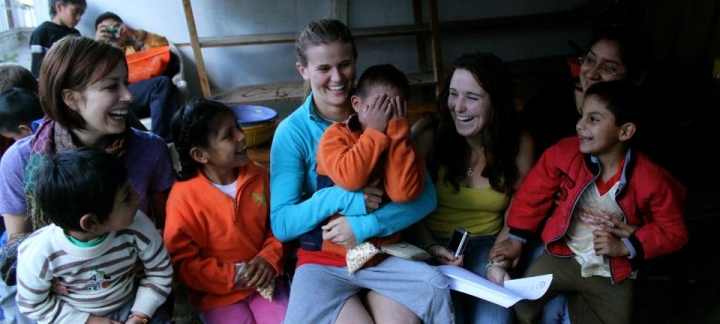 Kelsey Quigley in Peru 
Success Stories
Education Abroad Program (EAP), Fall 2011
Junior, Sociocultural Anthropology
I have been in Chile for just less than two months and it is still difficult for me to internalize my experience so far.  Each day is something new and exciting!  In a city the size of Santiago there is never a lack of new adventures and with a country as geographically diverse as Chile there is always a different site to see and a new place to explore.  Beyond the adventure, the academic value of studying in Santiago is undeniable.  With courses in Spanish, I am pushed beyond my comfort zone and made to think even more creatively and critically.  Furthermore, the dramatic and powerful student movement occurring here only provokes more thought on my role as a UCSD student and the similar difficulties that we face in California.  It teaches me to look beyond the text of my book, beyond the beauty and excitement of travel and truly focus on the issues that grip our lives, across borders and cultures.  In plain spoken words, I have only been abroad for a short time, but the lessons that I am learning and the experiences that I am living are invaluable; they are unreachable from the classrooms of UCSD and they will incalculably improve the breadth of my university career.  I highly recommend studying abroad for any student that wishes to expand their knowledge beyond the mere equations and words of their textbooks and truly apply their academic understanding to real life.
Boston University, Summer 2011 
Junior, Cognitive Science - Neuroscience
 (Not) Understanding Contemporary Peru
I arrived in Lima, Peru on America's birthday – July 4th, 2011. I cannot recall what I could have possibly expected; I genuinely don't think that I could expect anything, and certainly nothing like what I experienced.
Boston University's summer program – "Understanding Contemporary Peru" – is unlike any other study abroad program that I encountered in my research. The program introduces students to three distinct areas and cultures of Peru - Lima, a small Andean city called Ayacucho, and Cuzco. We spent three weeks in Lima studying Spanish composition and literature at Pontifica Universidad Católica del Peru – the most prestigious university in Peru. We lived with host families surrounded by foreign embassies, internationally renowned restaurants, and world-class shopping. We formed strong bonds in such a short amount of time; I genuinely believe that these young Limenos will remain my friends for years to come.
My first encounter of the magnificent Andes in Ayacucho was tainted by the distinct odor of smoke, as it is common practice in Ayacucho to burn one's trash. The jarring juxtaposition between Lima and Ayacucho is one of the most striking and significant aspects of my experience in this program. In Ayacucho, we studied at Universidad San Crístobal de Huamanga, in a classroom in the Plaza de Armas (the main square) in the city. We lived the past, present, and future of the small Andean city. Celebrating Peruvian Independence Day – or Feliz Patrías– in Ayacucho, the home of newly elected president Ollanta Humala, was one of the most heartwarming, nationalistic experiences of my life. However, beneath the weeks of parades, fireworks every hour, and countless celebratory meals, I saw a city with a deeply troubled past. The class in Ayacucho, taught entirely in Spanish, explored the history and continuing effects of Sendero Luminoso – "the Shining Path" – a Maoist organization that terrifyingly gained power in Peru during the 1980's – an era known by Peruvians simply as la violencía. Dr. Abimael Guzman, a professor at the Universidad San Crístobal – the movement's stronghold, founded Sendero. I couldn't help but think during my classes there I could have been sitting in the very room that Professor Guzman espoused and formulated his plans for violence, terror, and brutal takeover.
As we learned the history of the unimaginable violence and intimidation of Sendero, we also worked with various Non-Governmental Organizations that are still currently working to develop the department of Ayacucho in the wake of such destruction. I worked at an orphanage called Los Gorriones – Casa Hogar in Carmen Alto – one the poorest provinces of Ayacucho. It is an orphanage with around 30 children, many with severe physical and mental disabilities. It was simultaneously the most heartbreaking and heartwarming experience of my life as I met some of the most intelligent, tenacious children I had ever come across. I was deeply affected, for example, a 9-year-old blind boy that could not walk learned to recognize me only by my smell.
I had gained a newfound perspective when comparing my life back at home to a life filled incessantly with the reminder of past violence and turmoil. The principal thing that I have come to understand in "Understanding Contemporary Peru" is that I truly could never understand. The juxtapositions that I encountered called into question most of what defines my existence as an upper-middle-class white American female. Peruanos – despite having experienced decades of indiscriminant violence, are some of the friendliest, warmest, and most welcoming of the entire world.