Coffee With a Professor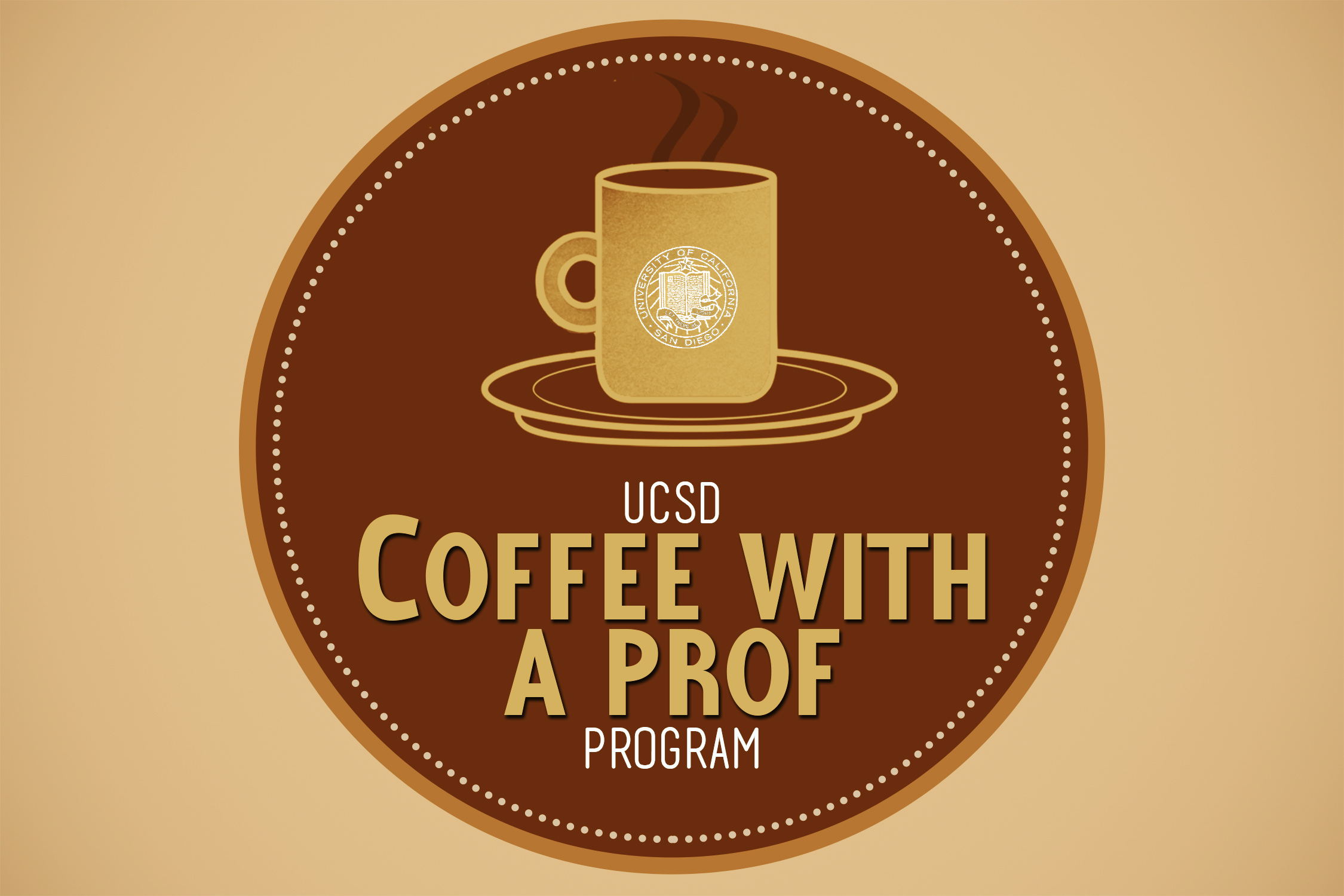 We now have Spring 2019 quarter vouchers available for
Coffee-with-a-Prof!
Coffee-With-a-Prof allows undergraduate students to take a faculty member or graduate teaching assistant to coffee (or tea) at one of 6 select locations on campus for FREE.  This program is designed to allow U.C. San Diego undergraduate students yet another way to cultivate a student-faculty relationship outside of the classroom.
Students are eligible to participate in this program TWICE per quarter!  This program runs Fall, Winter and Spring Quarter. *This program does NOT occur during Summer Sessions
* Please stop by the Student Affairs front desk on the 3rd floor of the ERC Admin bulding to recieve one. This is first come, first served. Please note you have to have solidifed a meeting time, date, and location with your Professor or Graduate TA before picking one up. 
First talk to your professor or graduate student TA and invite them to participate with you in the program.  After you decide on the information below you will need to obtain your voucher from your College's Student Affairs Office.
Before obtaining your FREE Beverage Voucher please make sure you have the following information:
The Full Name and UCSD E-Mail address of the Faculty member or Graduate Student TA with whom you invited.
The Location you will be redeeming your voucher at (see below location options)
The Date that you will be meeting your professor or TA.
The Beverage Voucher is redeemable for Two Medium beverages of your and your professor/TA's choice.
The voucher is only valid if both the student and professor or graduate TA are present.  If another student wants to participate at the same time as you, just be sure that each student has their own voucher.
Go to the Student Affairs Office of your College.  If you are an ERC Student come to the Student Affairs Office Front Desk (3rd Floor of the ERC Administration Building) to pick up your voucher.  Please be sure to come in at least 48 hours before your planned meeting time to obtain your voucher.  Do not wait till the day of - we may not be in office and you may not be able to get your voucher.  Please plan ahead.  If you have any questions don't hesitate to contact ERC Student Affairs at ercstudentlife@ucsd.edu or 858-534-2237.
There are 6 locations on campus that you can redeem your Coffee with a Prof Voucher at:
The Art of Espresso (Mandeville Center)
Cups Outdoor Cafe (Courtyard in front of Jacobs School of Engineering)
Fairbanks Coffee Cart (Center Hall, Warren Hall, Social Science Building, SOM, & Revelle Plaza)
Muir Woods Coffee House (MOM-Middle of Muir; downstairs from Pines)
Perks Coffee Shop (bottom floor of the U.C. San Diego Bookstore)
Starbucks (Price Center, West, Level 1)
***Peets Coffee and Audrey's in Geisel are NOT currently available locations
Can I participate in Coffee with a Prof more than once a year?
Yes, students may participate TWICE per academic QUARTER*! (The program is not available during Summer Session) *while supplies last - there are a limited number of vouchers available each academic year.
If I participate in Coffee with a Prof does that mean I can't do Dine-with-a-Prof in the same quarter?
No - the 2 programs are not mutually exclusive.  You essentially have 3 opportunities to meet with a professor or TA each quarter.  Once per quarter with Dine with a Prof and Twice per quarter with Coffee with a Prof.
Can I invite my Graduate TA to coffee instead of a professor?
Yes, students may invite TAs - as long as they are a current Graduate Student TAs. 
Can I invite a UC San Diego Staff Member to Coffee with a Prof?
No, unfortunately staff members are not eligible for this program.  You are still welcome to ask them to coffee if you would like (and they would LOVE IT), but the voucher will not work for it and you would be responsible for paying for the coffee on your own.  The voucher is only valid to be used with currently teaching TAs or Faculty.
Can multiple students take the same professor or TA out to coffee together?
Yes, students may coordinate up to 3 students per 1 professor or TA.  Each student must obtain their own voucher from their own college in order to participate.  The reason for this limitation is that the whole premise behind this program is that it fosters a more one on one interaction between the student and a professor or TA.  Additionally - each voucher is designed to pay for one faculty member and one student - when you start having multiple students taking out the same instructor then each of the vouchers start to lose value.
What if I am not currently enrolled in a class with a professor or TA that I am interested in taking out for coffee — can I still invite them?
Of course! However, the professor or TA must be currently teaching at UCSD or employed by the university in the quarter that you go with them.
I lost my beverage voucher — can a get a replacement card?
No, we cannot give out replacement vouchers, as cards are limited.  Fortunately though you can participate twice per quarter - so if you haven't already used your second voucher you can use it as a replacement for the one you lost if you choose.
How should I decide which coffee location to meet at?
Ask your professor or TA if they have a preference.  Each location varies in select beverage options they provide.  Each location also differs in the surrounding environment (seating, indoors vs, outdoors, etc).  We recommend you try different ones and discover your new favorite spot!