Coffee with a Staff 
An ERC Mentorship Program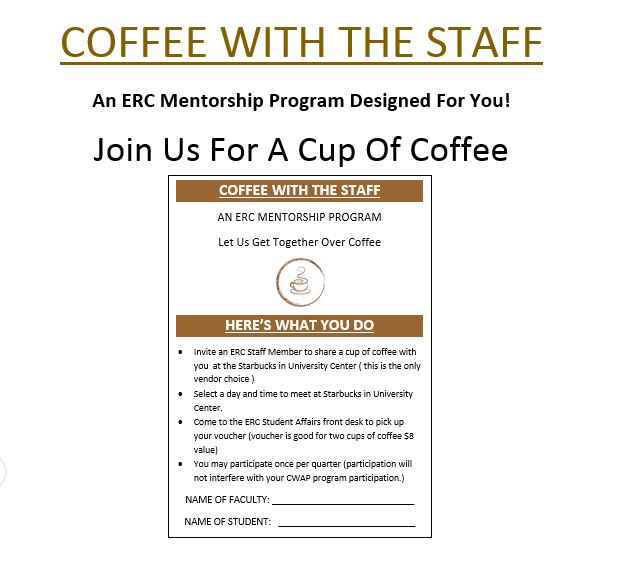 ATTENTION: There are still vouchers available for Winter 2019 quarter. If you are interested you have until March 23rd to utilize this program. 
Invite an ERC Staff Member to share a cup of coffee with you at the Starbucks in Price Center ( this is the only vendor choice )
Select a day and time to meet at Starbucks in Price Center.
Come to the ERC Student Affairs front desk to pick up your voucher (voucher is good for two cups of coffee $8 value)
You may participate once per quarter (participation will not interfere with your CWAP program participation.)
First talk to the ERC Staff member and invite them to participate with you in the program.  After you decide on the information below you will need to obtain your voucher from your College's Student Affairs Office.
Before obtaining your FREE Beverage Voucher please make sure you have the following information:
The Full Name and UCSD E-Mail address of the ERC Staff member with whom you invited.
The Date that you will be meeting the staff member
The Beverage Voucher is redeemable for Two Medium beverages of your and your staff member's choice.
The voucher is only valid if both the student and the ERC Staff member are present. 
Go to the Student Affairs Office of your College.  If you are an ERC Student come to the Student Affairs Office Front Desk (3rd Floor of the ERC Administration Building) to pick up your voucher.  Please be sure to come in at least 48 hours before your planned meeting time to obtain your voucher.  Do not wait till the day of - we may not be in office and you may not be able to get your voucher.  Please plan ahead.  If you have any questions don't hesitate to contact ERC Student Affairs at ercstudentlife@ucsd.edu or 858-534-2237.
Can I participate in Coffee with a Staff more than once a year?
Yes, students may participate once  per academic quarter*! (The program is not available during Summer Session) *while supplies last - there are a limited number of vouchers available each academic year.
If I participate in Coffee with a Staff does that mean I can't do Dine-with-a-Prof or Coffee-with-a-Prof program in the same quarter?
No - the 3 programs are not mutually exclusive.  You essentially have 3 opportunities to meet with a professor or TA each quarter and 1 opportunity with a staff member.  Once per quarter with Dine with a Prof , once per quarter with Coffee with a Staff, and Twice per quarter with Coffee with a Prof. 
I lost my beverage voucher — can a get a replacement card?
No, we cannot give out replacement vouchers, as cards are limited.