Break Away Global Service (B.A.G.S.)
Thank you to those who voted for this year's location:
The 2017 Trip will be to the Dominican Republic!
What is BAGS?
B.A.G.S. is a unique alternative spring break program  BAGS consists of two service trip that is unique to Eleanor Roosevelt College.  The trip consists of  a ERC students have the opportunity to participate in each year.  Each program includes a 2-unit seminar held during Winter Quarter followed by a week-long service project during Spring Break.  You get to earn course credit while also serving others. Previous trips have gone to Belize, Mexico, Turkey, and Puerto Rico! You too, can become a globally-minded citizen through the B.A.G.S experience!
How can I participate?
During Fall Quarter make sure you are looking out for Informational Emails, and Facebook Posts.  There is usually one informational session that is also held for you to meet with the program coordinator - the Assistant Dean of Student Affairs, Pedro Scotto.  Applications are made available in the middle of Fall Quarter and are usually due around Week 7 or Week 8.  If you have questions about the program you can always email ercstudentlife@ucsd.edu and ask for more information.
Information about our 2017 Program:
The 2017 BAGS trip will take place in the Dominican Republic.  This year's on-site projects will focus on one or more of the following focus areas: Environmental Conservation, Youth Development, or Safe Living Conditions.  The 2-unit seminar will take place during Winter Quarter 2017 and will focus on the region's culture and history so that you have a better understanding of the area and the reason for your service there.
What to do to Participate:
Complete an Application (found above and sent to your UCSD E-Mail; paper copies also available in the Student Affairs Office)
Turn in Application by November 18, 2016 by 4:00pm in the ERC Student Affairs Office (3rd Floor of the ERC Admin Building)
Be able to enroll in the 2-unit seminar which will take place during Winter Quarter 2017
Have a current and valid passport - must not expire before October 2017
**Understanding or knowledge of the Spanish Language is

not

a requirement for this program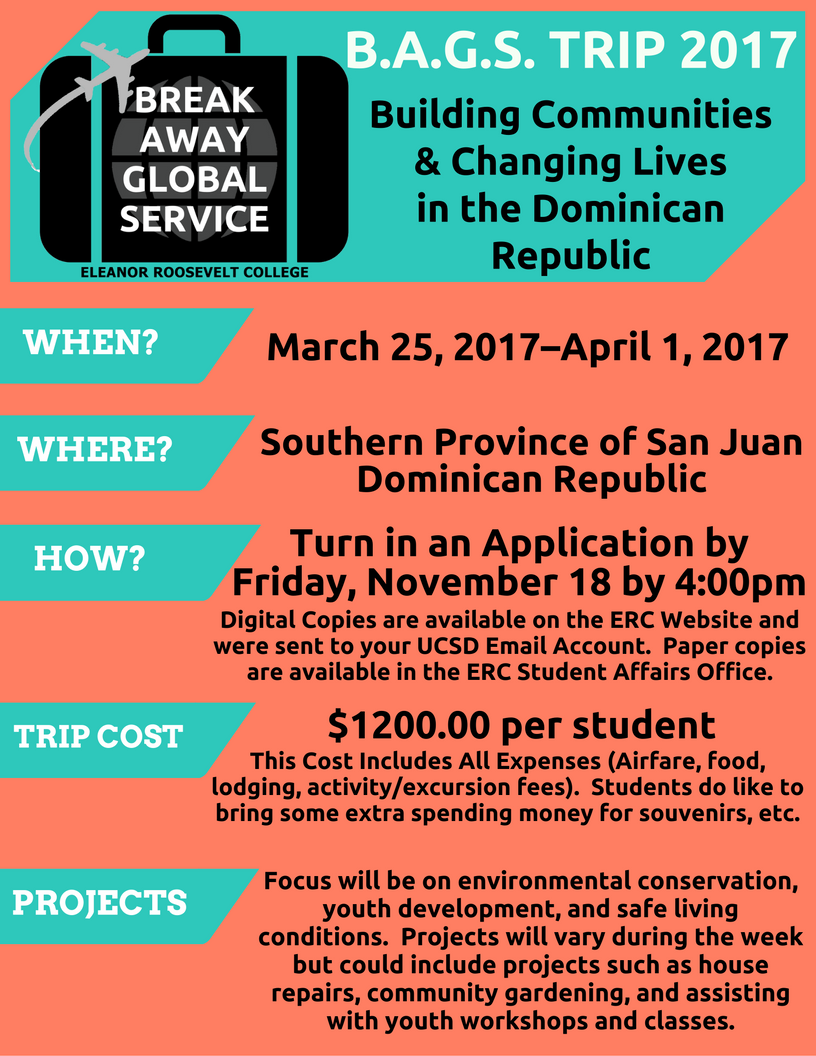 Save
Sav
Save
Save
Save
Save